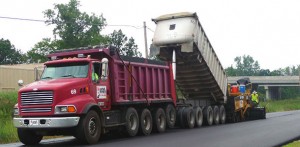 About Our Asphalt Paving Services Company
Our Michigan asphalt company has been serving the Metro Detroit community since 1965. We specialize in asphalt services, and a full range of site services including site clearing, underground, concrete, fencing, and drain tile. Whether you need: new construction, asphalt resurfacing, milling, pulverization, seal coating, patching or crack filling, we provide the services that you need at prices you can afford. Our staff offers quality and reliability you can count on. In addition, our friendly and professional staff is here to answer any questions you may have about our company or our services.
What began as a small family business in 1964 with four inexperienced family members, one small roller, one single axle dump truck, and a small asphalt drag box has become a force to be reckoned with in the asphalt paving industry encompassing Southeastern Michigan. We are a third generation family business that has endured the many changes in the business and economic environments in to the new millennium and are stronger today because of our combined work ethic and commitment to professionalism and craftsmanship. We have skilled employees in every phase of our company that can tackle whatever projects we are presented with. Because of the innovative and progressive skills of our asphalt company's leadership, we have developed into a team of specialists with the ability to address any potential problems that may arise. Over the years we have developed a reputation for competence, craftsmanship, fairness, teamwork, and professionalism, from your first contact with us to your finished project.
Our Mission Statement
Al's Asphalt Paving Company is committed to be the leading provider of asphalt paving services in the following areas:
Dedication in building a rewarding and lasting relationship with each customer
Using the most up-to-date equipment and modern truck fleet
Ensure a stress-free paving experience by providing efficient crews and hands on project management performance
Michigan asphalt companyprovides superior quality asphalt services for Southeastern Michigan and the metro Detroit area. For more information, contact us by phone at 1-734-946-1880 or through our contact form here.