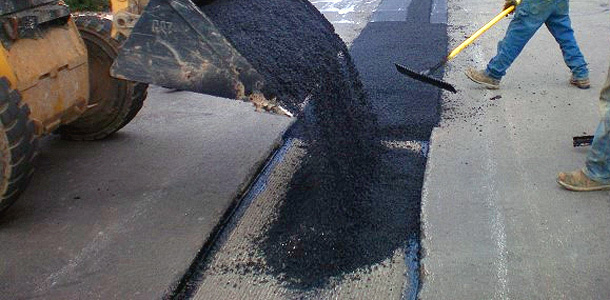 Asphalt Patching & Repair
Our patching repair crews can handle any asphalt patching or catch basin repair you may require. We put as much importance on our asphalt patching repair work as we do on major paving jobs. All jobs are important to us.
Patching potholes is a common repair in Michigan. Potholes occur when water gets into pavement through unsealed or improperly sealed cracks. Then when the weather gets cold the water freezes and expands, as a result the cracks enlarge. When the weather warms the ice melts and the water dissipates leaving a void which then collapses and forms a pothole. Depending on the season and site location, typical repairs involve filling the potholes with either hot or cold asphalt mix and leveling agent.
Emergency repairs may require patching during poor winter weather conditions. In these situations the repair should be considered temporary and a good strategy is to plan for a more permanent repair when the weather improves.
Our Michigan asphalt company provides asphalt patching and asphalt crack filling services for Southeastern Michigan and the metro Detroit area. For additional information, contact us by phone at 1-734-946-1880 or through our contact form here.