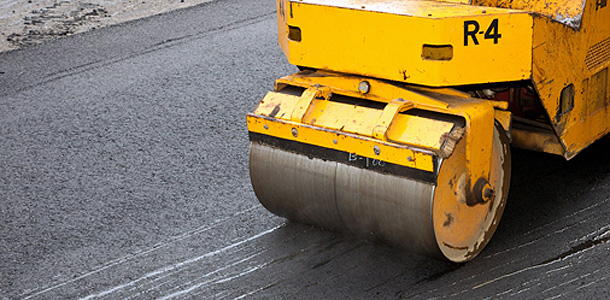 Services | Asphalt Paving Services Company
At Al's Asphalt Paving Company we believe that no one does it better. The quality of our asphalt services is never compromised with shortcuts or inferior materials. We use state of the art equipment, the highest quality materials, educated professionals, and the newest asphalt service application techniques to help ensure your asphalt paving or repair project is completed properly and on time.
It doesn't matter if you have a small parking lot or a major roadway; Al's Asphalt Paving Company will give your project all the attention it needs to make sure the job is done right.
Asphalt Services:
New Asphalt Construction
New construction installation of new asphalt and damaged asphalt repairs is but one of our specialties. For a new construction paving job to be done right, you need to have the right equipment, proper materials, and people who know how to use them. At our Michigan asphalt paving company, we believe no one does new asphalt construction better. For additional information on this service click on new construction.
Back to top
Asphalt Paving
Are you searching for the reliable Michigan asphalt paving company with decades of experience and a reputation for quality? Al's Asphalt Paving has been serving Southeastern Michigan and greater metro Detroit since 1965. We provide asphalt paving services for new construction, parking lot paving, and resurfacing for any sized asphalt paving project.
Back to top
Asphalt Milling
Asphalt milling is the process of grinding up asphalt so that it can then be recycled. Al's Asphalt Paving Co. can handle any size milling job. With precision we can mill from one inch to one foot of asphalt and aggregate base making removal much quicker, cleaner, and cost effective. For additional information on this service click on milling.
Back to top
Pulverization
Through pulverization, Al's Asphalt Company can turn your broken or badly cracked parking lot into a reusable bituminous aggregate base which gives added strength to your new asphalt construction. Stabilization can turn your wet or unstable ground into a rock hard cement-like base by using a unique process of lime, cement and water, pulverized and mixed with your existing ground. Both pulverization and stabilization methods drastically cut excavation and haul away costs. For additional information on this service click on pulverization.
Back to top
Asphalt Crack Sealing
Crack filling is the placement of materials into non-working or low movement cracks to reduce the infiltration of water and other materials into the cracks. When done properly, crack filling can extend the life of your pavement. By sealing cracks in your pavement you prevent water from entering, sand …
Back to top
Asphalt Seal Coating
Seal coating is an important part of asphalt pavement maintenance. The sealcoat material is an emulsion that protects the asphalt from harmful UV rays, weather, grease, oil, and other harmful agents. Before the seal coating is applied, our asphalt company cleans and out the asphalt cracks and applies crack filling material. Grease & oil spots are then removed, and the pavements structural failures are repaired. For additional information on this service click on seal coating.
Back to top
Asphalt Patching
Our patching repair crews can handle any asphalt patching or catch basin repair you may require. We put as much importance on our asphalt patching repair work as we do on major paving jobs. All jobs are important to us. For additional information on this service click on asphalt patching.
Back to top
Infrared Asphalt Repair
Infrared asphalt recycling is the in-place reheating of asphalt by means of energy producing equipment designed to soften the bitumen without burning it which allows for reworking the pavement. A typical infrared seamless repair consists of heating and combing the damaged asphalt with new asphalt mix…
Back to top
Concrete Work
In conjunction with our expert asphalt paving crews, our experienced concrete crews provide a variety of services including roads, parking lots, sidewalks, curbs, and gutters. Our concrete curb and flatwork service is the perfect counterpart to our Michigan asphalt paving services. Our quality concrete work is used to transition from a raised surface to a sloped surface such as a paved street. For additional information on this service click on concrete work.
Back to top